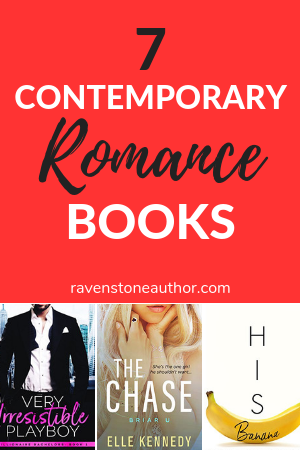 Looking for some good contemporary romance novels? Here are 7 books to think about (includes publisher's description):
Very Irresistible Playboy by Lila Monroe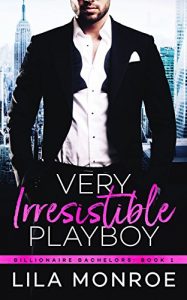 Hot bachelor Max Carlisle is heir to a media empire, tabloid catnip, and… wants to hire me to be his fake fiancee. I know what it takes to keep a billionaire in line, but signing up for seven days in close quarters with this Very Irresistible Playboy? It's just asking for trouble. The kind of thrilling, reckless trouble I could use a little more of since my career is currently ass-backwards in a mud bath with six shih-tzus (don't ask).
So do I:
a) Take the job, and bicker wildly every step of the way?
b) Embark on a mad-cap treasure hunt to claim his billion-dollar inheritance?
c) Try my hardest not to fall head-over-heels in love with him and wind up having the best sex of my life?
d) All of the above?
Something tells me I'm about to be way out of my league… and under the most handsome, infuriating man I've ever met. But with a fortune on the line, can we beat out his crazy relatives to win the prize? And will our fake relationship be game over at the finish line?
His Banana by Penelope Bloom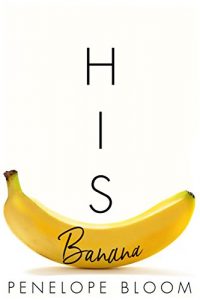 My new boss likes rules, but there's one nobody dares to break…
No touching his banana.
Seriously. The guy is like a potassium addict.
Of course, I touched it.
If you want to get technical, I actually put it in my mouth.
I chewed it up, too… I even swallowed.
I know. Bad, bad, girl.
Then I saw him, and believe it or not, choking on a guy's banana does not make the best first impression.
I should backtrack a little here. Before I ever touched a billionaire's banana, I got my first real assignment as a business reporter. This wasn't the same old bottom-of-the-barrel assignment I always got. I wasn't going to interview a garbage man about his favorite routes or write a piece on how picking up dog poop from people's yards is the next big thing.
Nope. None of the above, thank you very much.
This was my big break. My chance to prove I wasn't a bumbling, clumsy, accident-prone walking disaster. I was infiltrating Galleon Enterprises to follow up on suspicions of corruption.
Cue the James Bond music.
I could do this. All I had to do was land the position as an intern and nail my interview with Bruce Chamberson.
Forget the fact that he looked like somebody carved him out of liquid female desire, then sprinkled on some "makes men question their sexuality" for good measure. I needed to make this work. No accidents. No disasters. No clumsiness. All I needed to do was hold it together for less than an hour.
Fast forward to the conference room before the interview, and that's where you would find me with a banana in my hand. A banana that literally had his name on it in big, black sharpie. It was a few seconds later when he walked in and caught me yellow-handed. A few seconds after that was when he hired me.
Yeah. I know. It didn't seem like a good sign to me, either.
Two Weeks Notice by Whitney G.
To Whom It May Concern:
I am writing this letter to formally announce my resignation from Parker International (& the arrogant, condescending CEO) effective two weeks from today.
This was a VERY EASY decision to make, as the past two years have been utterly miserable. I wish his next executive assistant all the luck in the world (she'll need it) and if my boss should need me to do anything over the next two weeks, kindly tell him that he can do it [his] goddamn self…
Sincerely (Not Really),
Tara Lauren
That's the version of my two weeks' notice I should've sent to my boss, because the more professional version–the one where I said I was "grateful for all the opportunities," and "honored by all the rewarding experiences" over the years?
That letter was rejected with his sexy, trademark smirk and an "I highly suggest you read the fine print of your contract…"
So, I did.
And now I've realized that unless I fake my death, poison him, or find a way to renegotiate my impossible contract, I'm stuck working under one of the cockiest and most ruthless bosses in New York.
Then again, I thought that was the case until he called me late last night with an emergency proposition…
Every Time We Fall in Love by Bella Andre
Harry Sullivan has always put his family first, even when it meant losing Molly—his one true love. He's never been able to forget her, even after fifteen years. Now that his siblings are all blissfully happy, Harry hopes it's not too late for his own happily-ever-after. But then his doorbell rings…and one look at the teenage girl standing on his doorstep changes absolutely everything.
Molly never thought she'd see Harry Sullivan again, so she's beyond stunned when her fifteen-year-old daughter brings him back into her life. At eighteen, Harry was already strong, sexy, and honorable. And now that he's even more handsome, more brilliant, more loyal and caring? Molly can't stop herself from falling in love with him all over again. Especially when his kisses and the sizzling attraction between them are hotter than ever.
But with more at stake now than they ever thought possible, will they be able to move beyond the mistakes they both made in the past, and fall in love forever this time?
The Chase by Elle Kennedy
Everyone says opposites attract. And they must be right, because there's no logical reason why I'm so drawn to Colin Fitzgerald. I don't usually go for tattoo-covered, video-gaming, hockey-playing nerd-jocks who think I'm flighty and superficial. His narrow view of me is the first strike against him. It doesn't help that he's buddy-buddy with my brother.
And that his best friend has a crush on me.
And that I just moved in with them.
Oh, did I not mention we're roommates?
I suppose it doesn't matter. Fitzy has made it clear he's not interested in me, even though the sparks between us are liable to burn our house down. I'm not the kind of girl who chases after a man, though, and I'm not about to start. I've got my hands full dealing with a new school, a sleazy professor, and an uncertain future. So if my sexy brooding roomie wises up and realizes what he's missing?
He knows where to find me.
The Naked Truth by Vi Keeland
It was just a typical Monday.
Until the big boss asked me to make the pitch for a prospective new client.
After two years on shaky ground at work because of my screw up, an opportunity to impress the senior partners was just what I needed.
Or so I thought…
Until I walked into the conference room and collided with the man I was supposed to pitch.
My coffee spilled, my files tumbled to the ground, and I almost lost my balance.
And that was the good part of my day.
Because the gorgeous man crouched down and looking at me like he wanted to eat me alive, was none other than my ex, Gray Westbrook.
A man who I'd only just begun to move on from.
A man who my heart despised–yet my body obviously still had other ideas about.
A man who was as charismatic and confident as he was sexy.
Somehow, I managed to make it through my presentation ignoring his intense stare.
Although it was impossible to ignore all the dirty things he whispered into my ear right after I was done.
But there was no way I was giving him another chance, especially now that he was a client
…was there?
Hold You Close by Corinne Michaels and Melani Harlow
Ian Chase broke my heart at seventeen, and I've spent the last eighteen years hating him for it.
He makes it easy, with his smart mouth and playboy lifestyle—which I unfortunately have to observe since he lives behind me. Every time I see him climbing out of his pool, practically naked and unreasonably sexy, my blood boils.
I've always loved to loathe him.
I never planned to need him.
~ ~ ~
London Parish is my little sister's best friend, not that it stopped me from falling for her.
Our history is complicated. The only thing we have in common is being godparents to my sister's three adorable kids—until our lives are changed in one tragic moment.
Now we're trying to raise the children we love, mourn an unthinkable loss, and fight an undeniable attraction.
My life is already upside-down, and the last thing I need is for old feelings to resurface.
Because I'll never be able to keep her, no matter how hard I try to hold her close.
---