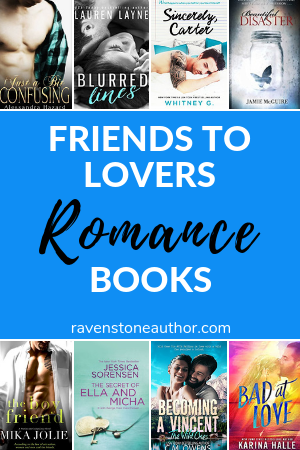 Personally I think friends to lovers is one of the best romance plots out there. It's full of risk for the characters, because they might lose their friend. But it also seems to be the essence of romance to me, because in the end I think your significant other should be your best friend too. Just my two cents. 😉
Check out a few of these books about friends to lovers romances (includes publisher's description). Maybe one of them will steal your heart. 🙂
Sincerely, Carter by Whitney G
Just friends.
We're just friends.
No, really. She's just my best friend…
Arizona Turner has been my best friend since fourth grade, even when we "hated" each other. We've been there for one another through first kisses, first "times," and we've been each other's constant when good relationships turned bad. (We even went to colleges that were minutes away from each other…)
Throughout the years, and despite what anyone says, we've never crossed the line.
Never thought about it.
Never wanted to.
Until one night changed everything.
At least, it should've …
Just friends.
We're just friends.
I'm only saying this until I figure out if she's still "just" my best friend…
Just a Bit Confusing by Alessandra Hazard
Best friends, inseparable since childhood, one in love with the other, the other straight and in love with a woman.
Stories like this don't have a happy ending; James Grayson knows it. He puts on a smile, he laughs, he jokes, and he pretends he's fine when Ryan kisses his girlfriend in front of him—until he can't.
Except nothing is easy and letting go turns out to be much harder than one might think. Some bonds are too strong to be broken, even for a straight man. And sometimes love and desire can have different faces and layers.
A story of two men trying to function without each other and failing.
Publisher's note: this novel contains explicit M/M content and graphic language. Book #5 in the Straight Guys series. Although it can be read as a stand alone, it is preferable to have read Just a Bit Wrong, Zach Hardaway and Tristan DuVal's story.
Blurred Lines by Lauren Layne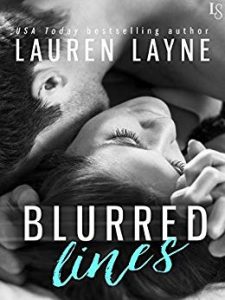 USA TODAY BESTSELLER • In a novel that's perfect for fans of Alice Clayton and Emma Chase, Lauren Layne delivers a sexy take on the timeless question: Can a guy and a girl really be "just friends"?
When Parker Blanton meets Ben Olsen during her freshman year of college, the connection is immediate—and platonic. Six years later, they're still best friends, sharing an apartment in Portland's trendy Northwest District as they happily settle into adult life. But when Parker's boyfriend dumps her out of the blue, she starts to wonder about Ben's no-strings-attached approach to dating. The trouble is, even with Ben as her wingman, Parker can't seem to get the hang of casual sex—until she tries it with him.
The arrangement works perfectly . . . at first. The sex is mind-blowing, and their friendship remains as solid as ever, without any of the usual messy romantic entanglements. But when Parker's ex decides he wants her back, Ben is shocked by a fierce stab of possessiveness. And when Ben starts seeing a girl from work, Parker finds herself plagued by unfamiliar jealousy. With their friendship on the rocks for the first time, Parker and Ben face an alarming truth: Maybe they can't go back. And maybe, deep down, they never want to.
Becoming a Vincent by C.M. Owens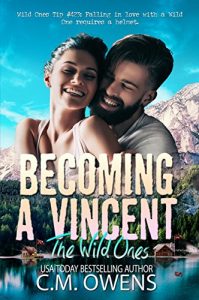 When you live in a place where "turbo speed" internet is a slight step above dial-up, men carry on nine-year beard-growing challenges out of stubborn pride, and your brothers do things like nail all your panties to the outside of your cabin just for funsies, you tend to be a little crazy. You can call it a "locational" hazard, if you will.
That's Tomahawk for you.
We rank people based on just how crazy they are. And the four craziest families in town are called the Wild Ones.
I'm on the bottom tier of those, so technically I'm not as crazy as the other Wild Ones. In fact, if it wasn't for my brothers and their endless antics, I wouldn't be considered a Wild One at all. Ahem. Sure. We'll go with that.
Anyway, I have a best friend who endures it all with me. Benson Nolans is my one, constant favorite person.
Without him, I'd probably go really crazy, and not the fun kind. It'd be ridiculous, after three years of a flawless friendship, to mess that all up by falling for him.
I mean, even if we did get a little too close one night, it'd be reckless endangerment. Even if we did suddenly feel the chemistry that's always been there and stop toeing the line, it'd be a foolish risk to take.
It'd be stupid to start hoping a really fun, but completely irrational, night with zero inhibitions might accidentally happen.
Really stupid…
Right?
*NO cliffhanger
*Stand-alone book
*Sexual Content
*Adult language
*Completely, 100% crazy
Bad at Love by Karina Hale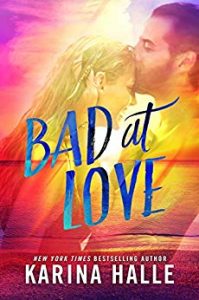 What happens when two best friends decide to date each other as an experiment? BAD AT LOVE is a STANDALONE friends-to-lovers romance from the NYT bestselling author of The Pact.
She's bad at love, but he's even worse…
Marina is hot, blonde, and wickedly smart, but when it comes to men? She's hopeless. Between her quirks and her lack of filter, there isn't a man in Los Angeles that will stick around after the third date.
Her handsome, charming friend Lazarus has the opposite problem. Everyone wants to be the sexy Brit's girlfriend, but he gets bored and moves on quickly.
There's only one way to figure out why neither of them has cracked this love thing– they'll date each other. On paper, it's the perfect experiment. But in reality, things between Marina and Laz get complicated quickly.
They might be bad at love, but they are even worse at being friends.
Note: This full-length romance is a complete standalone with no relation to any other books and was inspired by the Halsey song "Bad at Love." It does contain ample amounts of profanity, filthy language and graphic sex scenes. Sensitive readers should be advised.
Beautiful Disaster by Jamie McGuire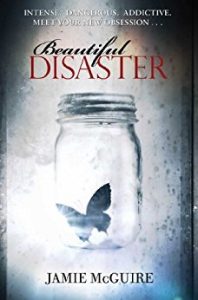 A New York Times and USA TODAY bestseller about a good girl dangerously drawn to the ultimate bad boy.
The new Abby Abernathy is a good girl. She doesn't drink or swear, and she has the appropriate number of cardigans in her wardrobe. Abby believes she has enough distance from the darkness of her past, but when she arrives at college with her best friend, her path to a new beginning is quickly challenged by Eastern University's Walking One-Night Stand.
Travis Maddox, lean, cut, and covered in tattoos, is exactly what Abby wants—and needs—to avoid. He spends his nights winning money in a floating fight ring, and his days as the ultimate college campus charmer. Intrigued by Abby's resistance to his appeal, Travis tricks her into his daily life with a simple bet. If he loses, he must remain abstinent for a month. If Abby loses, she must live in Travis's apartment for the same amount of time. Either way, Travis has no idea that he has met his match.
The Secret of Ella and Micha by Jessica Sorensen
A rule-breaker with a fiery attitude, Ella always wore her heart on her sleeve. Then she left everything behind to go to college, where she transformed into someone who follows the rules, keeps everything together, and hides all her problems. Now it's summer break and she has nowhere else to go but home. But once there, Ella fears that everything she's worked so hard to bury might resurface-especially with Micha living right next door.
Smart, sexy, and confident, Micha can get under Ella's skin like no one else. He knows everything about her, including her darkest secrets. If he tries to tempt the old Ella to return, he will be impossible to resist. But what Ella doesn't realize is that when she left, she took a piece of Micha's heart with her. Now he's determined to win back the girl he lost, no matter what it takes.
The Boy Friend by Mika Jolie
According to the law of attraction, women and men can't be friends.
Contrary to this myth, my friendship with Coriander Phillips does not rest on unrequited love or un-actualized lust. We've been inseparable since the day I pulled one of her pigtails and she punched me in the gut.
She's hilarious, fun to hang out with. Together, we're like peanut butter and jelly, spaghetti and meatballs, wings and beer. A match made in heaven.
She's the bomb.
Did I mention she's smokin' hot? I've checked her out…maybe once or twice. Hey, I'm a guy.
Seriously, no awkwardness, no secret yearning for our relationship to escalate beyond the purely platonic. I'm the boy friend—the loyal shoulder she cries on, the dispenser of coffee, sympathy, hugs, advice, and affection with no expectations.
Until the invisible line between friends and lovers became blurry.
Now I want more. I want her.
All I have to do is convince her we can be more than friends.
Right?
If only it were that easy.
---