When I first heard about alien romance books, I have to admit that I thought the whole idea was a bit out there (no puns intended). But the more I thought about it, the more I realized that I've watched a lot of movies and TV shows about human-alien romances, so it's not really surprising to find books about them too. And, they're like paranormal romances, because the author can add a lot of cool characteristics (like telepathy) that humans don't have.
Anyways, here are some romance books about aliens to add to your list (includes publishers descriptions):
Dark Planet Warriors by Anna Carven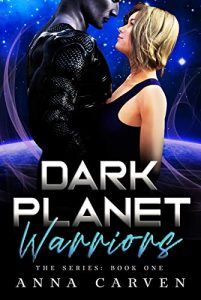 Abbey
Some scary looking aliens have just boarded Fortuna Tau, our little asteroid mining station. Kordolians, by the looks of things. What the hell do they want with this floating rust bucket? What are they even doing here?
Come to think of it, I've never seen a Kordolian up close before. They're huge and intimidating, with strange silver skin and pointed ears. They have freaky nano-armor, and they're packing a serious arsenal. We Humans stand no chance against them.
When I encounter their General, I find him insufferable. Arrogant. Domineering. He won't tell me anything. I guess that's what happens when your race is kicking ass across the Nine Galaxies. You get pigheaded.
So why do I keep running into him? Why does he keep looking at me like that? And what's with this weird feeling I get when he's around? I really hope these guys fix their ship and go away soon, because I get the feeling they could be major trouble.
Tarak
Sucked into a wormhole during a fierce skirmish with an enemy ship. Spat out near a Human mining station in a remote corner of the Nine Galaxies. Stuck with weak Humans who operate with inferior metals and technology.
This mission couldn't get any worse.
We need to fix our craft, kill the cursed Xargek, and get out of here before the wormhole collapses. I don't really care about these Humans. Their existence makes no sense to me.
So why has this strange Human female captured my attention? She's messy, awkward, and she babbles nonsense half the time. These Humans are crazy. I don't understand them at all, especially this female. Why do I keep coming back to her?
I need to leave this place before I go insane.
Ivoth (Scifi Alien Weredragon Romance) by Celia Kyle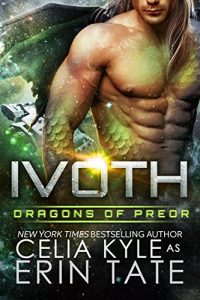 He has to choose—love or honor—because he can't have both.
Elle may be a Davenport, but she's finding she enjoys life as a mostly-gray sheep of the Davenport family. She kicked off the Daven Bio uniform and now works for their corporate enemy—Cole Pharma, now headquartered in Preor Tower. She's got massive, muscular, winged aliens surrounding her from sun up to sun down. But there's only one Preor warrior who throws her world into a tailspin—Ivoth sen Pezet'li. Strong. Sexy. Sinfully seductive. Hers? No. They don't share the Knowing, but that doesn't stop her from wanting him. Bad.
Ivoth made a vow to his sire—the sen Pezet line would not end with him. And yet, when he speaks with Elle, scents her skin, and feels her curves against his hard body, he does not know if he can let her go. He craves her more than any other—perhaps even more than he desires to fulfill his vow—and he knows he must make a choice. Keep Elle and never have dragonlets or leave her and lose his heart forever.
Ivoth has to make a choice, but first, he has to keep Elle alive. Someone wants her dead and Ivoth is determined to kill them first. He only prays to Syh he is successful.
Obsidian by Jennifer L. Armentrout
Starting over sucks.
When we moved to West Virginia right before my senior year, I'd pretty much resigned myself to thick accents, dodgy internet access, and a whole lot of boring…until I spotted my hot neighbor, with his looming height and eerie green eyes. Things were looking up.
And then he opened his mouth.
Daemon is infuriating. Arrogant. Stab-worthy. We do not get along. At all. But when a stranger attacks me and Daemon literally freezes time with a wave of his hand, well, something…unexpected happens.
The hot alien living next door marks me.
You heard me. Alien. Turns out Daemon and his sister have a galaxy of enemies wanting to steal their abilities, and Daemon's touch has me lit up like the Vegas Strip. The only way I'm getting out of this alive is by sticking close to Daemon until my alien mojo fades.
If I don't kill him first, that is.
That Irresistible Poison by Alessandra Hazard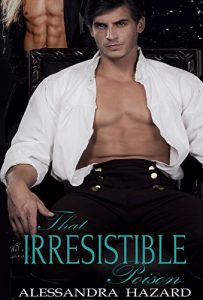 The youngest prince of his clan, Seyn has been betrothed to the crown prince of another clan since birth. Everyone says he's so lucky to marry one of the most respected, powerful men on the planet, but Seyn knows better.
He hates him with every fiber of his being. Ksar is a cold, uncaring, overbearing bastard who uses underhanded tactics to achieve his goals and who either ignores Seyn or criticizes everything about him. Seyn can't stand him, and he's willing to do anything to get out of the arranged marriage to a man he abhors.
But the line between feverish hatred and passion can be very thin, and it turns out that freedom isn't as appealing as it once seemed.
Is it messed up to miss a man you loathe?
Is it sick to want his hands on you?
Seyn knows it's insane. He knows he should stop going back.
But knowing something and doing it are two different things.
Gladiator: A Scifi Alien Romance by Anna Hacket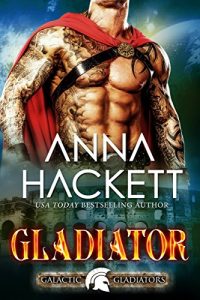 Fighting for love, honor, and freedom on the galaxy's lawless outer rim…
When Earth space marine Harper Adams finds herself abducted by alien slavers off a space station, her life turns into a battle for survival. Dumped into an arena on a desert planet on the outer rim, she finds herself face to face with a big, tattooed alien gladiator…the champion of the Kor Magna Arena.
A former prince abandoned to the arena as a teen, Raiden Tiago has long ago earned his freedom. Now he rules the arena, but he doesn't fight for the glory, but instead for his own dark purpose–revenge against the Thraxian aliens who destroyed his planet. Then his existence is rocked by one small, fierce female fighter from an unknown planet called Earth.
Harper is determined to find a way home, but when she spots her best friend in the arena–a slave of the evil Thraxian aliens–she'll do anything to save her friend…even join forces with the tough, alpha male who sets her body on fire. But as Harper and Raiden step foot onto the blood-soaked sands of the arena, Harper worries that Raiden has his own dangerous agenda…
Fractured Stars by Lindsay Buroker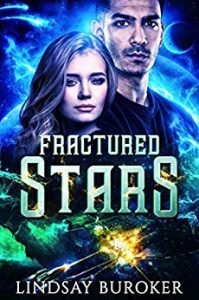 McCall Richter finds criminals, con men, and deadbeats better than anyone else in the empire.
She's proud of her success and that she owns her own spaceship, especially since she struggles to understand human motivations, can't tell when people are lying to her, and is horrible at recognizing faces. Being autistic in the empire is frowned upon—and there's a handy normalization surgery to correct it—but she's managed to prove her worth and avoid irking the tyrannical regime.
Except for one thing.
Two years ago, she liberated the android, Scipio, from an imperial research facility where he was treated worse than a slave. He's become her business partner and best friend, but if the empire finds out she has him, a "normalization" surgery will be the least of her worries.
When her ship is confiscated by a cyborg law enforcer needing to transport prisoners, McCall knows she and Scipio are in trouble. Worse, the enforcer's pilot is a former bounty hunter and business competitor she beat to the prize many times in the past.
Soon, he's snooping all over her ship and questioning her about her past.
And there's something strange about him. He knows far more about what she's thinking than any human should.
It'll only be a matter of time before he discovers her secret. And then what?
Draekon Mate: Exiled to the Prison Planet (A Sci-Fi Menage Romance) by Lili Zander and Lee Savino
The Zorahn wanted women for some kind of super-secret science experiment, and I volunteered. Dumb move, right? But they promised we'd be safe, and they offered a lot of money. Money I needed desperately.
Of course, everything went wrong.
Our spaceship has crashed on a prison planet, one where the Zorahn exile their most dangerous criminals. My friends are injured. I'm all alone on a jungle planet where everything is designed to kill me.
Then I run into the Draekons. When they see me, they change into dragons and burn the predators threatening me to a crisp. They feed me and care for me, and they keep me safe.
But there's a catch. The Draekons insist that I'm their mate. And the only way they can shift into dragons again to save my friends? Both of them need to mate with me. At the same time.
This isn't the space vacation I thought it would be.
Alien Prince's Mate: An Auxem Novel by Lisa Lace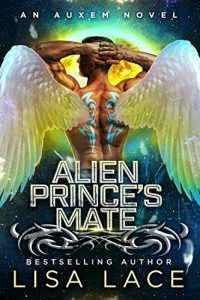 Ever since the virus took our women, we've been searching.
Searching for their magical gift to create new life.
Searching for the fire in their eyes when they scream our names in the heat of passion.

So when I find Priya, a curvy, dark-eyed human stowaway, there's only one thing on my mind. Do I care if I'm royalty and she's a fugitive? Do I care if mating with her could risk everything?

Of course not.

The only thing I care about is caressing her delicious curves, opening her legs, and knowing the sweet, wet pleasure inside her. I couldn't resist her pull even if I wanted to.

I'll protect her from everyone, even my own people, even from the pirates trying to board our ship. I'll protect her until my dying breath.

Bonding with her is forbidden. She's going to be my mate.
---