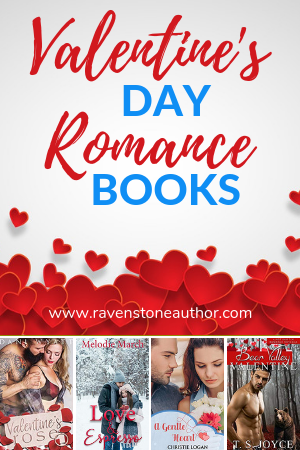 As a kid, and as a teen, I was all into Valentine's Day. Once I was an adult, though, and in a long-term relationship, it seemed like rather a forced holiday. I discovered that I much prefer spontaneous romantic moments, over anything planned, any day. But, I can understand that it's the one reminder we get each year to celebrate our romantic relationships. So, in that spirit, here are some Valentine's Day romances (includes publishers descriptions). Enjoy!
Lord Blackwood's Valentine Ball by Arabella Sheraton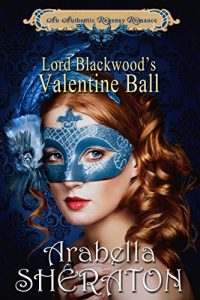 In this charming traditional Regency romance novella, Patience Cherwell is resigned to a life of spinsterhood. Therefore, when her young friend, the lovely Lorna Hartley, comes to stay for a London season, she decides the eligible, handsome Lord Blackwood is the perfect match for Lorna. Granted, Lord Blackwood, at forty, is much older than the vivacious 20-year-old Lorna, but Patience is determined to help her young friend make a good match. So why isn't she happy when his lordship and Lorna seem to like each other's company? The problem is that Patience is already madly in love with his lordship! An unexpected invitation arrives for Lorna and Patience to attend Lord Blackwood's Valentine Ball. This is the perfect moment for him to propose to Lorna. Mysteriously, a corsage arrives from an anonymous admirer. Who is it for? And what will be the outcome for the wearer at Lord Blackwood's Valentine Ball? This novella is the prequel to The Lady's Revenge.
An Alpha's Romance: A Valentine's Day Novella by Kasey Martin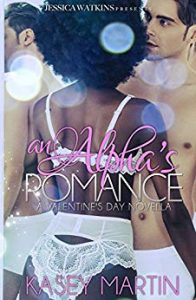 They say that opposites attract, but these two opposites definitely repel.
She owns a bakery, and is allergic to working out. He owns a gym, and thinks sugar is a sin.
She likes cookies, treats, and is really quite sweet. He likes weights, protein, and is really quite mean.
Will the stars align for Keisha Love and Conner O'Bryan, or will spiteful, conniving, dangerous exes continue to keep them apart?
Valentine's Rose by Dani Wyatt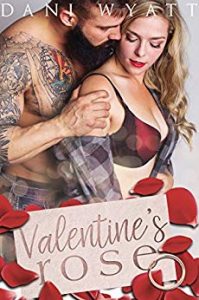 It only took Tanner Valentine one look at her to know this rare Rose was his one and only. Growing the world's rarest and most coveted roses is this mountain man's obsession until he walks into her flower shop and his new obsession takes over. There's just one thing holding him back from staking his claim that ring on her finger.
Rose Everhart spends her days arranging flowers. On this Valentine's Day, she lets it slip that although she's send out thousands of arrangements to other lucky recipients, she's never been the receiver of flowers herself. What she doesn't know, is wearing her grandmother's scratched and worn rose gold wedding band has kept the hulky flannel wearing rose grower that's filled her fantasies for months at a distance for too long.
Will these two unlucky at love introverts finally discover what it's like to discover your one and only? Only, will someone from Rose's past force her to retreat back into her solitary world just as she's beginning to understand the power of true love?
Candy Bear: Valentine's Day Romance (Fate Valley Mysteries Book 4) by Scarlett Grove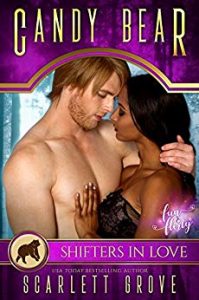 Can a New York City orphan find happiness in Fate Valley?
Big hopes …
Orphan and magazine journalist Samantha Cooper is in Fate Valley after a DNA test says she's related to one of the town's founders. Her research gets sidetracked when a human-shifter dating website matches her with big, burly confectioner Benjamin Darling. Ben's as sweet as the candy he makes … but does a New York girl really belong in a small town?
Sweet dreams …
After waiting seven long years, Ben isn't about to blow it with curvy Samantha. If food is the way to a man's heart, maybe candy will melt his mate's? Dinners, dancing, and plenty of flirting are his game plan for winning her over.
History's mysteries
When a statue of the town's founder disappears overnight, Ben and Samantha discover there's much more to Fate Valley's origins than either of them suspected. Long-buried secrets come to light as they investigate. But will the truth give them the candy-ever-after ending they need?
A Gentle Heart: A Sweet Valentine's Day Romance by Christie Logan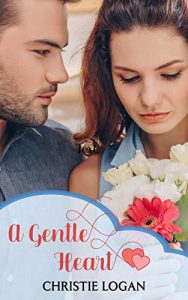 An ambitious man chasing success. An innocent young woman looking for love. Will his need to get ahead at all costs mean breaking her gentle heart?
Business owner Alex has plans for his life. Big plans. Getting dumped by his fiancée won't sidetrack him. What better way to show her up than to begin dating a new woman? A beautiful woman he finds, of all places, behind the lingerie counter of a department store.
Tyffanie has dreams that extend far beyond her sales counter, but she's been burned by men only interested in her looks. When handsome, successful Alex enters her life, everything changes. He's the first to look beneath the surface, respect her, and care about her hopes and dreams.
As Valentine's Day approaches, Alex is falling in love with Tyffanie's kind soul and gentle heart. How far will he go to pursue success and all its trappings, and will it mean losing Tyffanie's love?
Love and Espresso: A Valentine's Day Romance by Melodie March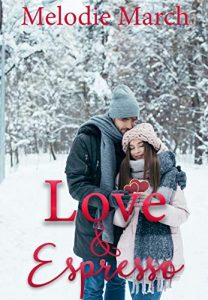 Molly D'Arbo owns the most popular, and only, coffee shop in Wintervale. Bean There, Done That is a hub of gossip and community in the small Vermont town, and Molly loves that her store gets to be in the middle of all of it. But when a national coffee chain, and its handsome, arrogant CEO, try to move into Wintervale, will everything Molly has worked for disappear?
Tate Lewis is the reluctant CEO of Gemini Coffee, a former wild child and musician forced into the business world by his no-nonsense father. He is sent to Wintervale, Vermont, a popular little arts community, to try and open up the latest branch of Gemini Coffee. But when he arrives, he meets resistance in the form of a spunky café owner, who isn't willing to see her beloved town go corporate.
Can these two bickering business people find a way to work together… and will they find something else in the process, like a shot of romance?
Bear Valley Valentine: Valentine's Day Paranormal Romance by T. S. Joyce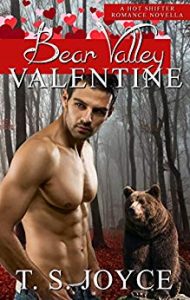 Colin Cross is a lone bear shifter living on the outskirts of Bear Valley. He likes his reclusive lifestyle, but when he musters the nerve to talk to the woman he has feelings for, being alone just doesn't seem like enough anymore. When he finds Hadley on an online dating site, it's the perfect way to build a relationship with her without dragging her into his dark past. Hadley is human, and humans don't belong in his world, but a little online flirting never hurt anyone.
Hadley Bennett has had it with dating local townies. Determined to cast her net a little wider, she enters the chaotic world of online dating. When she finally secures a face-to-face date with the elusive Bearman28, it'll be a Valentine's Day to remember.
And if Hadley can handle his real identity, they just might find what they've both been searching for.
---