One of the best things about the weather getting colder is Halloween, and the wonderful creepiness of it all. The brisk wind, the leaves scattering and scraping along the sidewalks, the calls of children as they race home for trick-or-treating. I love this time of year, even when I have to hide in my bedroom because I've run out of candy. 😊 And what better time to curl up with a romance than when you have a bowl full of candy sitting right there?
Check out some of these Halloween romance books (includes publisher's descriptions):
All I Want for Halloween by Marie Harte
TONIGHT, SHE PLANS TO LET GO.
Dressed up and anonymous, Sadie Liberato feels powerful, sexy and free. Where better to lose herself than a masked party?
Gear Blackstone's cheating ex and scheming best friend have managed to spin his life into a serious downward spiral. At least with a mask on he can cut loose for one night. And cut loose he does—with the sexiest, snarkiest chick he's ever met.
After a scorching-hot encounter, Sadie and Gear are desperate to find each other in real life. But can the heat last when the masks come off?
Crazy, Sexy, Ghoulish: A Halloween Romance by G.G. Andrew
A zombie. A vampire. A witch. Nora Travers is none of these things.
But the former mean girl has to hide behind costumes if she wants to scare the pants off Brendan, the horror geek with the power to make or break her haunted house. Because Brendan is the nerd Nora used to torment in middle school. But now he's all grown up and so scary hot, even her zombie heart starts beating.
And he's looking a bit too long at her bloody fishnet stockings.
Nora has to be everything she's not this Halloween so she can hide her true self and terrify Brendan. Not to mention protect her heart.
Because what happens when he realizes she's a monster behind the mask?
Enchanting Eve: Halloween Romance (Sweet Holiday Romance Book 1) by Darci Balogh
Two men. One possibly haunted house. A Halloween she'll never forget.
Eve's simple life in her home town has felt empty since her father passed away. Living in the beautiful old house where she grew up is some comfort to her, but being naturally introverted and loving cats isn't exactly pushing her into a healthy social life. She misses the joy she used to feel and she's not sure where she will find happiness again, if ever.
When Eve decides to take part in a few of her most cherished Halloween traditions that she used to share with her father, life gets a little, shall we say, sticky?
First she finds out her high school crush is returning home, then she meets the fun and inviting young teacher who is taking over her father's job, and finally she discovers that she's living in a haunted house.
Is her strong attraction to the 'one that got away' the start of something beautiful or will the old fashioned charm of the new guy in town win her over? Are the strange coincidences in her house leading up to Halloween just her imagination or is someone trying to tell her something? Something that could change her life forever?
Halloween at the Graff (Holiday at the Graff Book 1) by Sinclair Jayne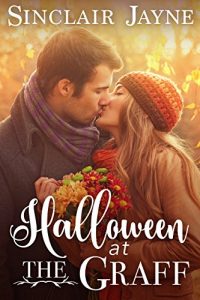 Starting over at thirty-two is never fun, especially in a town the size of a postage stamp. Chasing that with having to beg for a job she's wildly over-qualified for and Walker Wilder's pride is really burned. But now that she's the new events director for the historic Montana Graff Hotel, she's tasked with creating buzz and traditions to fill rooms during the off-season. Halloween may not scream touristy, but hiring a spirit-hunting TV crew will definitely grab some headlines… But when the sexy spirit hunter shows up, he haunts more than her dreams.

Calum Quest is done. He's created an entertainment empire by chasing something he's never seen and is tired of asking questions with no answers. His life has been defined by ghosts he needs to exorcise, yet, when a red-haired, grey-eyed beauty with a body that melts his mind pours him a double shot of Laphroaig whiskey and challenges him to one more round, how can he say no?
His Treat (Objects of Attraction Book 3) by Penelope Bloom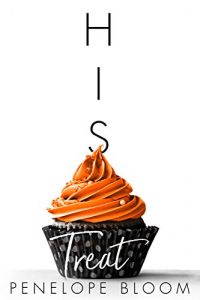 Having a hot boss isn't complicated or confusing at all,
Said no one ever…
But all I have to do is resist for a few months.
Come January, I'm flying to Paris to chase my dream of being an artist,
Too bad I can't have my treat and eat it, too.
I forgot to mention… My hot boss was also my high school crush. Sort of. First, I wanted to crush him with gooey affection. In the end, I just plain wanted to crush him. Now he's back, and he might as well have "do not touch" printed on his chest. One tiny question: would it count if I didn't use my hands?
Let me answer my own question. Yes, Emily, you raging horndog, it counts. Besides, my dream is practically waiting for me like a perfectly wrapped, shiny little package if I can just behave. I'd be an absolute idiot to risk that, and I have a long, proud history of not being an idiot to protect.
Unless it's kind of like when you do really well in class all semester so you can afford to flunk a test at the end. Three months is a long time, and if he's the one giving me the big, fat, dirty "F", it does add a little dose of temptation to the equation.
But all I have to do is one quick job for him. A few posters and a few props for a big Halloween party that he's hosting.
Then I just walk away from his dreamboat eyes and perfect body, grab a plane, and forget about all the beautiful children we could've squeezed inside our white picket fence.
Alpha's Halloween Virgin: A Halloween Wolf Shifter Romance by Casey Morgan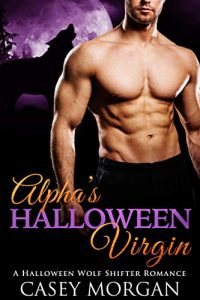 On Halloween I'll turn 21 and I'm determined to lose my virginity.
My life so far has been regimented by my ultra-religious parents.
All I want is to break free of their control or to be rescued.
A man with mysterious golden eyes buys me a ticket to a Halloween rave.
He seems familiar, like the werewolf in my dreams.
This is just the man to fulfill my Halloween birthday wish.
He'll bring freedom to my heart, soul and previously untouched body.
But is he just a man?
And will there be more to our encounter than him taking me for my first time?
Will giving myself to this Alpha reveal a secret my parents have kept from me?
That I'm more than human… and predestined to be with my one true mate?
Haunted Hearts: A ghost story by Kimberly Dean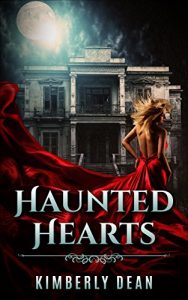 Does a ghost from the past want the man of her future?
Callie is thrilled when she inherits a house in the small town of Shadow Valley. The house is old and creaky, but she's not afraid of hard work. Unfortunately, no matter how many repairs she makes, the strange noises won't go away. Cold spots appear. Lights flicker. Footsteps sound down the hallway. Her nerves are soon so frayed that she resorts to calling the one person in town she hasn't been able to get along with, bullheaded police chief Carter Landry.
Carter doesn't have time to investigate things that go bump in the night—although, with Callie, the idea is tempting. He's busy working with the governor's task force on a major case and dealing with a rash of petty Halloween crimes. He knows that Callie's house isn't haunted… no matter what town legend says.
Still, when her distress call comes in, Carter is quick to respond. He may not believe in ghosts, but someone is intentionally scaring the sassy blonde. And he doesn't like it. As he investigates, the friction between the two of them ignites into passion… and the strange occurrences in the house subside. But could Carter's presence be the reason? Callie fears that her sexy cop may be the one the ghost has wanted all along.