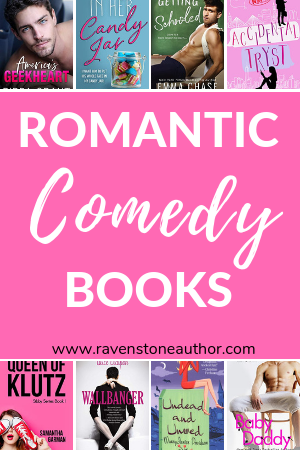 Romance novels can be intense, especially when the characters are working through some heavy issues as they're falling in love. There are times when I definitely want those tearjerkers with a lot of drama, or the suspenseful ones where I'm biting my nails, but sometimes I just want lighthearted, romantic comedy books. Something that makes me laugh while I'm falling in love with the characters.
If you feel me, then check out some of the romantic comedies below (includes publisher's descriptions).
In Her Candy Jar: A Romantic Comedy by Alina Jacobs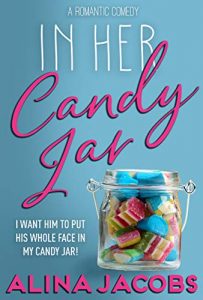 I am always fully in control of my company, my family, and my life. Even my diet is perfectly regulated—that includes no candy.
Except when my new assistant sprays chocolate sauce all over me and passes out drunk in my car, it marks the point where my control over everything starts to unravel.
Josie is a walking disaster and some sort of sugar addict.
And she's determined to turn me into a fiend for her candy.
Josie
Routines are the enemy of life. I live to be spontaneous.
My new billionaire boss looks like he needs something sweet in his life. I graciously offered to let him stick his hand in my candy jar.
It has salt water taffy and gummy worms! I can't believe he thought it was inappropriate!
I feel sorry for the guy. His little brothers are miserable, his PowerPoints are uninspired, and his life is seriously lacking in joy. And candy.
Thought if I'm being honest, I could use a little more discipline. My YOLO, fly-by-the-seat-of-my pants philosophy already sent my life into a tailspin.
It cost me the entirety of my life savings.
I'm living in a dilapidated tiny house that's trying to kill me.
I regularly eat chocolate chips and boxed wine for dinner.
In an effort to redeem myself, I set out to show Mace that I wasn't a clumsy, car destroying, electronic-killing, accident-prone, walking disaster. That lasted all of five minute before I set his seaweed and quinoa lunch on fire. Yeah, I didn't know that was a thing either.
I can tell I'm a bad influence. I see him lick his lips when we're alone. I just have to convince him to take one little bite…
Because once he has a taste, he's going to want to stick his whole face in my candy jar!
This standalone, full length romantic comedy has no cliffhangers! It features a boiling hot romance, the largest selection of hot brothers to ever grace your e-reader, and a heroine prone to making suggestive comments!
Getting Schooled by Emma Chase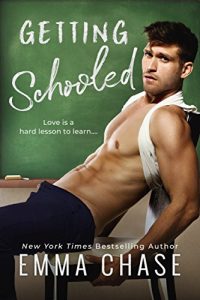 Head of the class…
Garrett Daniels has this whole life thing figured out.
The cocky, charismatic former high school star quarterback is an idolized football coach and "cool" teacher in the hometown where he's not just a golden boy — he's platinum. He has good friends, a great house on the lake, and the best damn sidekick a man could ask for: Snoopy, the albino beagle.
Then…Callie Carpenter comes home.
And knocks him right on his tight end zone.
Back to school…
Callie has a pretty sweet life herself…on the other side of the country. But circumstances — that she'd prefer to never speak of again — have brought her back home, helping out her parents and substitute teaching at her old high school.
Now she's facing bickering, raging hormones, constant gossip, awkward weirdness, and drama galore…and that's just the teachers.
Just like old times…
When Garrett offers to show his former high school sweetheart the secrets of his winning teacher ways, Callie jumps at the chance – and then has to stop herself from jumping him.
Good friends are all they can ever be.
Or…these teachers just might end up getting schooled — hard —by love.
Accidental Tryst: A Romantic Comedy by Natasha Boyd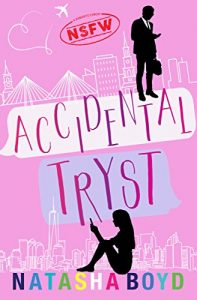 Two strangers accidentally switch cell phones in a busy airport in this edgier You've Got Mail, sexy romance for the smart-phone era …
Emmy
What a disaster! I only just made my flight to New York to help my uncle, and the phone I'm holding is not mine! It seems to belong to some commitment-phobic serial dater who's never made it past four dates (according to the constant notifications he's getting from his fake dating profile…) And worse? I have a sinking feeling it's that hot suit-monkey with the arctic grey eyes I just had a run-in with at the airport. Somehow, I have to persuade him not to get a new phone until I get back. My whole life is on that phone. I knew I should have backed it up. It's only a few days. Surely, we can handle it.
Trystan
This is a joke, right? My life could not get more f*cked up. I'm in the middle of selling my company and on my way to a funeral and that hot mess hippie-chick stole my freaking phone. I'm not sure how she convinced me not to immediately walk into a smart phone store and get a new one, but now she's going to have to play stand in and distract me while I deal with my long-avoided and estranged family. I don't have my dating apps after all, and frankly she's pretty funny. And sexy. And why can't I stop texting her? And now we're talking. And … look, I'll admit that I usually run for the hills the morning after, but the morning after phone sex? That's not really real, right?
Faithful by S.A. Wolfe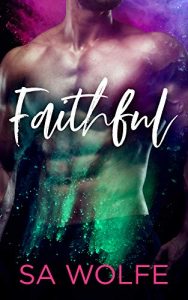 She's a small town waitress who's fed up with men and wants more out of life.
He's a former FBI agent who wants less of everything…except for her.
Imogene Walsh has always been unapologetically confident and ruthlessly opinionated with people, particularly men. No one is spared from her unfiltered mouth, but it hasn't seemed to deter Cooper MacKenzie. Although he is not the clean-cut, businessman type she's always thought she should pursue, Imogene is drawn to the sexy outsider who is the hottest topic in town gossip, the fantasy heartthrob women love to speculate about.
She has spent most of her life in the little town of Hera, New York, putting her numerous forgettable relationships behind her and floundering in both her professional and personal life. Work and men—neither have gone well for her. Now it's reached the point where Imogene wants to stop playing it safe.
It may be time to live up to her tough reputation and take a chance on Cooper, the only man who isn't intimidated by Imogene's brash personality. However, it could be a thrilling ride that doesn't end well.
*This is a standalone novel in the Fearsome Series.
Wallbanger by Alice Clayton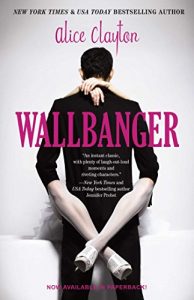 Caroline Reynolds has a fantastic new apartment in San Francisco, a Kitchen Aid mixer to die for, and no O (and we're not talking Oprah here, folks). She has a flourishing design career, an office overlooking the bay, a killer zucchini bread recipe, and no O. She has Clive (the best cat ever), great friends, a great rack, and no O. Adding insult to O-less, she also has an oversexed neighbor with the loudest late-night wallbanging she's ever heard. Every moan, spank, and—was that a meow?—punctuates the fact that not only is she losing sleep, she still has—yep, you guessed it—no O.
Enter Simon Parker. When the wallbanging threatens to literally bounce her out of bed, Caroline, clad in sexual frustration and a pink baby-doll nightie, confronts her heard-but-never-seen neighbor. Their late-night hallway encounter has…well…mixed results. Because with walls this thin, the tension's gonna be thick. A delicious mix of silly and steamy, this is an irresistible tale of exasperation at first sight.
Undead and Unwed by Mary Janice Davidson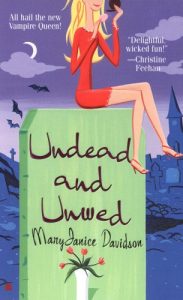 First Betsy Taylor loses her job, then she's killed in a car accident.
But what really bites is that she can't seem to stay dead.
And now her new friends have the ridiculous idea that Betsy is the prophesied vampire queen, and they want her help in overthrowing the most obnoxious power-hungry vampire in five centuries.
Baby Daddy: A sexy standalone romantic comedy by Nelle L'Amour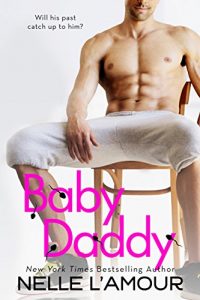 I have three cardinal rules:
Never mix business with pleasure
Never let a woman spend the night.
Never date a woman with kids.
Kids freak me out. God only knows how many this baby daddy has. Man, what was I thinking when I was in college? Me, Drake Hanson. God's gift to women. Aka Donor 5262. It was a piece of cake and fifteen hundred dollars a month for my deposits (in sperm bank speak) came in handy. Wank, bank, and go. I just didn't think about the consequences. One day, some kid is going to call me Daddy and I'm going to get hit up for child support. Big time.
Now, my father is pressuring me to settle down because the investor who's looking to acquire his animation company doesn't want a player running a family-oriented business. Just in time, she came along. The temp. Dee Walker. The minute the hot as sin brunette with her killer curves and those chocolate brown eyes stepped foot in my office and saved me from an ugly disaster with her magic hands, I wanted her to be mine. Except she's totally off limits. And there's someone else she loves with all her heart and soul that I can't replace.
Can my temp become my forever before my past catches up with me? I'm willing to break all the rules.
Queen of Klutz by Samantha Garman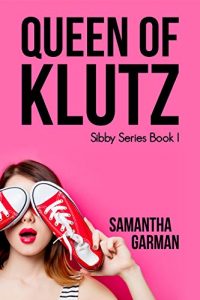 Choose the best phrase to describe Sibby Goldstein's life:
1) Sucky.
2) Really sucky.
3) Major suck-fest.
D) All of the above.
I started my day with a boyfriend and a job. I ended my day with a bottle of tequila. I'll let you connect the dots.
Somehow, I wound up working as a waitress at an Italian restaurant. I have no idea what I'm doing. And I'm not just talkin' about life.
This should be interesting.
America's Geekheart by Pippa Grant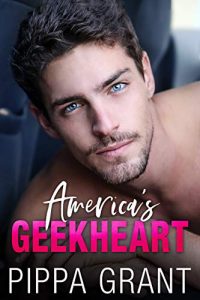 Remember that time you accidentally sexted your in-laws?
Yeah. I just did that. Except worse. Now my million social media followers are reading and sharing the rude, smartass message I meant to send privately to my little sister…and I'm officially public enemy number one.
I'm Beck Ryder. Former boy bander. Underwear model. Fashion mogul. And I just buried my entire leg in my mouth—not just my foot—modern internet style, and publicly insulted my sister's neighbor.
Sarah Dempsey.
Also known as the woman of my dreams, who loves geeky TV shows, baseball, and giraffes, who's just as turned on by food as I am, and who has a huge secret that I didn't see coming.
Now it's time to grovel and apologize publicly on social media and hope that those same followers who helped start the raging shitstorm will help calm the waters.
Because Sarah doesn't want the spotlight. For very good reasons that I can't tell you right now and trying to convince her to be my fake girlfriend to fix this mess and make me look like less of a jackass is worse than taking a kick to the nuts by Jackie Chan.
And I thought modeling underwear made me feel naked.
Trying to start a relationship in the era of the twitterazzi isn't all that it's cracked up to be.
America's Geekheart is a rockin' fun romantic comedy featuring a billionaire fashion mogul who got his start modeling underwear, the geeky girl next door with a secret the size of California, and more superstitions and secrets than you can shake a baseball bat at. It stands alone with no cheating or cliffhangers.
---