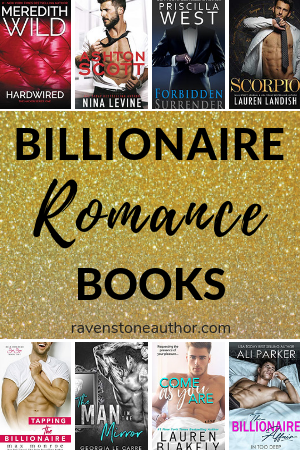 Ah, billionaire romance books. These are always so fun to read. I don't know if it's because the billionaire's usually an alpha, or he's dealing with some sassy chick, or a combination.
Anyways, no matter what your reasons are for loving these type of romances, if you're like me then you're always looking for more. Check out some of these books below (includes publishers descriptions):
Accidentally Yours by Susan Mallery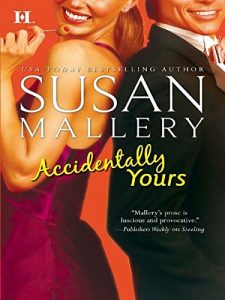 Wanted:
-Single mom seeks billionaire's pocketbook to fund dying son's research cure. Will seduce if necessary. Blackmail is not out of the question. Miracles welcome.
-Cynical billionaire seeks working mom with a heart of gold for PR campaign to improve his standing in the community. Must be willing to attend social events. Anyone looking for love need not apply.
It seemed like the perfect match…until the unthinkable happened.
Tapping the Billionaire (Bad Boy Billionaires Book 1) by Max Monroe
A secret duo of romance authors team up under the New York Times & USA Today Bestselling pseudonym Max Monroe to bring you a sexy, laugh-out-loud new series. Are you ready to meet the Billionaire Bad Boys?
Blind dates? Online dating profiles? Been there, done that.
Georgia Cummings has zero luck with dating, and the era of the internet is not her friend.
No matter how fast she runs, how many corners she turns, she can't find her way out of this weird, alternate universe where men think d*ck pics are a replacement for small talk and getting to know a girl. One more crotch selfie and she might write men off for good…
But why can't she stop fantasizing about him?
Kline Brooks is the quintessential billionaire bad boy—dark, styled, short hair, muscles for days, and a panty-dropping smile.
Except—he isn't.
As his employee, he won't touch her with a ten foot pole.
But she won't touch him either.
Too bad their hormones missed the memo.
Disclaimer:
If you're the type of woman who prefers crotch selfies to small talk, this book isn't for you.
If you enjoy random men you've never met filling up your inbox with dirty words and p*rn—for reasons focused more towards diddling your donut than laughing at the absurdity—this book isn't for you.
If you HATE laughing, this book isn't for you.
If you want your male leads to grunt, thrust like jack rabbits, and have one-track minds that prefer a nice pair of t*ts to brains every hour of every day for the rest of forever, well, then, this book still isn't for you.
But.
If you enjoy a good swoon, a hearty laugh, witty banter, and some hot as f*@% f*@%ing, then consider Georgia Cummings your Girl Friday and Kline Brooks your next irresistible book boyfriend.
Come as You Are by Lauren Blakely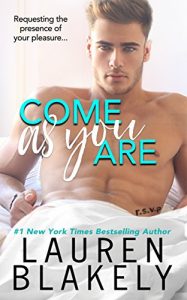 I couldn't have scripted a more perfect night.
For one fantastic evening, at a masquerade party in the heart of Manhattan, I'm not the millionaire everyone wants a piece of. Fine–multimillionaire. But who's counting all those commas? Not me, and not the most intriguing woman I've ever met, who happens to like dancing, witty banter, and passionate up-against-the-wall sex as much as I do.
There's no need for names or business cards. And that's why I'm eager to get to know her more, since my mystery woman seems to like me for me, rather than for my huge…bank account.
Everything's coming up aces. Until the next day when things get a little complicated. (Newsflash — a lot complicated.)
***
He's charming, brilliant, an incredible lover, and right now I want to stab fate in the eyeballs.
I've had one goal I've been working toward, and lo and behold, my mystery man is the very person who stands between me and my dream job. A job I desperately need since my hard-knock life has nothing in common with his star-kissed one.
But it's time to put that fairytale night behind me, and focus on learning what makes him tick. Too bad it turns out his quirks are my quirks, and his love affair with New York matches mine.
And as we spend our days together, I discover something else that feels like a cruel twist of fate — I'm falling for this modern-day naughty prince charming, and that's not an ending I can write to our story.
*A standalone contemporary romance!*
Scorpio: An Alpha Billionaire Romance by Lauren Landish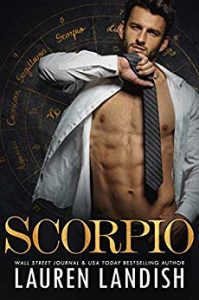 Your heart shall be his, then will come the sting. You will suffer… and then you shall burn.
The words chill me to the bone. That's my fate. At least, that's what the palm reader says.
Destiny, horoscopes… who believes in that? I sure don't. I make my own future, thank you very much.
But when I meet Scott Danger, the words come back to haunt me. His name even comes with a warning label. Handsome, rich, and sexier than any man should be, he's pursuing me hard and fast. Little ol' me, a bartender with a penchant for makeup and old country music.
He's dominant and seductive, a predator caged in gilded threads, and I want to run just so he'll chase me… catch me… take me. Shit. I'm in so much trouble, but I think I like it.
Still, those eerie words… do I tempt fate?
Scorpio is a full-length Romance with an HEA, no cheating, and no cliffhanger.
Ashton Scott by Nina Levine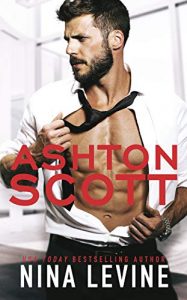 From USA Today bestselling author, Nina Levine, comes a new standalone, bossy-billionaire romance.
It was a bad start to my week.
Or shall I say, he was a bad start to my week.
Ashton Scott.
Presumptuous, arrogant asshole.
He barrelled into my office and demanded I sell him my property.
I said no.
Never.
He said everything is for sale.
He also said he always gets what he wants.
Well, Ashton Scott can kiss my ass. He's not getting this.
There's only one problem with that.
The man just doesn't give up. And now he's decided he wants me, too.
He's sexy AF.
He wears a suit like nobody's business.
And his bossiness turns me on in ways I can't even understand.
But I'm not going down without a fight.
Or at least, I wasn't…
My fight is what Ashton loves the most.
Of course it is.
Send wine.
Hardwired by Meredith Wild
Devour the addictive #1 NYT series that's sold over a million copies worldwide about a bad boy hacker billionaire and the whip-smart woman he can't resist.
Determined to overcome a difficult past, Erica Hathaway learns early on how to make it on her own. Days after her college graduation she finds herself face to face with a panel of investors who will make or break her fledgling startup. The only thing she didn't prepare for was going weak in the knees over an arrogant and gorgeous investor who's seemingly determined to derail her presentation.
Billionaire and rumored hacker Blake Landon has already made his fortune in software, and he's used to getting what he wants with very little resistance. Captivated by Erica's drive and unassuming beauty, he's wanted nothing more since she stepped into his boardroom. Determined to win her over, he breaks down her defenses and fights for her trust, even if that means sacrificing a level of control he's grown accustomed to.
But when Blake uncovers a dark secret from Erica's past, he threatens not just her trust, but the life she's fought so hard to create.
Forbidden Surrender by Priscilla West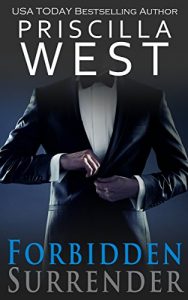 "What gives you a thrill Kristen?"
The minute I saw Vincent Sorenson, I knew he was trouble. Arrogant. Controlling. Possessive. He was everything I craved, and nothing I needed.
Unfortunately, I couldn't just avoid him. The higher ups at my company decided they needed his business, and I was on the team to bring him in. Vincent Sorenson didn't seem as interested in business as he was in me, but I knew that was a door better left unopened. If I got involved with him, it would only unearth the pain I spent years trying to bury.
I thought I had it under control, but I seriously underestimated Vincent's seductive charm and silver-tongue. I would soon find out how delicious it would feel to let myself fall into this forbidden surrender.
The Billionaire Affair: (A Billionaire Bad Boy Rom Com) by Ali Parker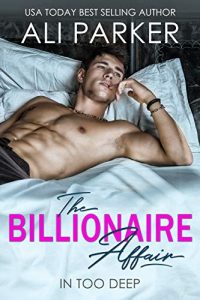 I'm thinking it's finally got to be my turn.
I've got no man and no money. Nothing but a personality and a smile.
But maybe that's enough this time.
The richest guy in New York is looking for a secretary, and lucky for me, he's young and as hot as sin.
Too bad he's an alpha asshole rich boy who's stuck on himself. Nothing I do is right.
Throw in a crazy ex and a father that can't stand anything that breathes in his personal space, and I. Am. Out.
He can find someone else to take notes and get his coffee.
I'm fine being broke and single. I've gotten good at it.
Besides, I'm not interested in a billionaire affair.
Or am I already in too deep to leave?
Sure as hell feels that way.
The Man In The Mirror: A Billionaire Romance by Georgia Le Carre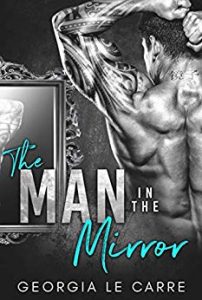 Brett King, Billionaire.
Yeah, that's me. Once, I had everything: power, looks, fame, an obscene amount of money, a trophy wife, and a beautiful little boy. Then, in a blink of an eye my enviable life was taken away.
I was left with nothing except my dirty money and my heart of stone.
I looked in the mirror and could not recognize myself. God had a sense of humor. I was ugly inside and now I was ugly outside too. It was divine justice.
I retreated to my castle in Wales and allowed no one to come face to face with me. My staff carried out my instructions and asked no questions. The only thing left to me was to acquire more money that I would never spend.
The months passed and I grew accustomed to my isolation. As I roamed about alone I even began to appreciate the darkness of my life. I lost interest in the world outside the thick walls of my castle. Nothing held any interest for me anymore.
Until she came. Charlotte Conrad, the nanny.
At the end of every evening we communicated through the intercom system. She kept me informed about the progress she was making with my son, Zachary.
I was just an employer listening to his employee, but slowly, insidiously, I began to imagine her young body; soft and sensuous against mine.
I wanted to take her. I wanted to hear her talk dirty to me.
I wanted her to unleash the wild, unrestrained animal that was lurking inside me.
I was becoming addicted…
A Standalone Billionaire Romance. HEA Guaranteed.
---