Ah, the holidays. That time of year when we get together with family and friends and eat too much. 🙂 Now, I know some people celebrate Christmas and some people don't, so no offense if Christmas isn't your thing. But if it is, and you love to snuggle up with a good Christmas romance, then check out some of these books (includes publishers descriptions):
Sugar Pine Trail: A Small-Town Christmas Romance by RaeAnne Thayne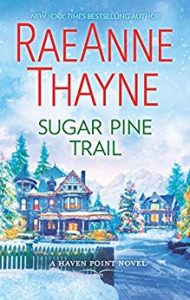 An unlikely attraction brings comfort, joy and unforgettable romance this holiday season!
Librarian Julia Winston is ready to ditch the quiet existence she's been living. She's made a list of new things to experience, but falling for Jamie Caine, her sexy military pilot neighbor, isn't one of them. Julia's looking to conquer life, not become the heartbreaker's latest conquest. But when two young brothers wind up in Julia's care for the holidays, she'll take any help she can get—even Jamie's.
Happy to step in, Jamie reveals a side of himself that's much harder to resist. Not only is he fantastic with kids, he provides the strength Julia needs to tackle her list. She knows their temporary family can't last beyond the holidays, but the closer she gets to Jamie, the more she wonders if things could be this merry and bright forever…
The Christmas Room by Catherine Anderson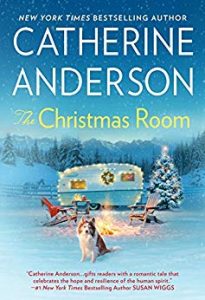 Widow Maddie McLendon has uprooted her life to move to Rustlers Gulch with her son and grandson. But as a brutal Montana winter looms on the horizon, contractors have yet to break ground on their new house, leaving them to live in a makeshift camp of trailers, tents, and sheds….
Since his wife died six years ago, millionaire rancher Sam Conacher has been content to wallow in his grief alone while keeping a tight rein on his twenty-six-year-old daughter. But now the girl has gone and fallen in love with his foolish new neighbor's no-good son….
Maddie and Sam will never see eye to eye on anything, until a near-tragedy gives them a true glimpse into each other's souls. And as the first snowflakes begin to fall, they'll discover that an open heart is the biggest gift of all….
A Will & A Way: A Holiday Romance by Nora Roberts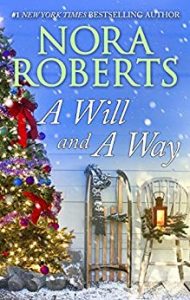 Pandora McVie's life is tied up in knots. In order to respect her uncle Jolley's last wishes, she's stuck spending Christmas isolated in the Catskills with Michael Donahue, the cobeneficiary of her uncle's will. Jolley was a matchmaker to the end—and apparently for some time beyond. The infuriating Michael is hard to live with…but what's harder still is not falling in love with her nemesis.
We'll Always Have Christmas by Jenny Hale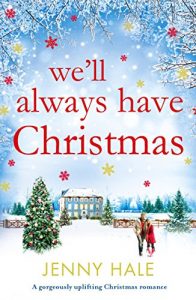 An enchanting story about the magic of Christmas, the importance of family, and the joy of falling in love during the most romantic season of the year…
Christmas has always been a special time for Noelle Parker. Winter evenings spent with family and friends, drinking hot chocolate and eating cookies at her family's cozy bakery have shaped her love for all things festive. But this year everything is changing…
The beloved bakery is facing closure and Noelle needs a miracle to save Christmas.
Determined to raise funds for the family business, Noelle sets about revamping the bakery while juggling a surprise new job, caring for the elderly and cantankerous William Harrington in his luxurious, sprawling mansion.
As Noelle melts the frostiness of the house with cake baking, snowball fights and glittering decorations, she helps William to reconnect with a romance that has spanned decades and unexpectedly finds herself falling for his grandson – the gorgeous but mysterious Alexander Harrington…
In the countdown to Christmas, can Noelle save the bakery, reunite a family and create some magical memories of her own along the way?
Moonlight over Manhattan by Sarah Morgan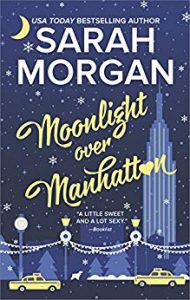 Determined to conquer a lifetime of shyness, Harriet Knight challenges herself to do one thing a day in December that scares her, including celebrating Christmas without her family. But when dog walker Harriet meets her newest client, exuberant spaniel Madi, she adds an extra challenge to her list—dealing with Madi's temporary dog sitter, gruff doctor Ethan Black, and their very unexpected chemistry.
Ethan thought he was used to chaos, until he met Madi—how can one tiny dog cause such mayhem? To Ethan, the solution is simple—he will pay Harriet to share his New York apartment and provide twenty-four-hour care. But there's nothing simple about how Harriet makes him feel.
Ethan's kisses make Harriet shine brighter than the stars over moonlit Manhattan. But when his dog-sitting duties are over and Harriet returns to her own home, will she dare to take the biggest challenge of all—letting Ethan know he has her heart for life, not just for Christmas?
Frosty Relations by Tara Quan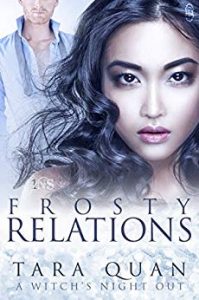 Attorney Jack Frost never understood why holidays did weird things to people. His secretary went on vacation, his best friend ditched their annual Aspen trip, and the law firm's stubborn human resources assistant refuses his clerical support request. What's a warlock to do on Christmas Eve but go on a 1-Night Stand? But when an oddly familiar empath shows up as his date, this ice mage has a hard time denying the magic of the winter solstice.
Faced with an anemic employment market and financial woes, college graduate and former witch Mina Mao lands an HR assistant job at Frost and Sons. Having spent her day saving Christmas from Frost Junior's Grinch-like behavior, she accepts the gift of Madame Eve's service and heads over to the Castillo Capital. When her date turns out to be her childhood crush and workplace nemesis, she braces herself for the sexiest icy ride of her life.
The Trouble with Mistletoe by Jill Shalvis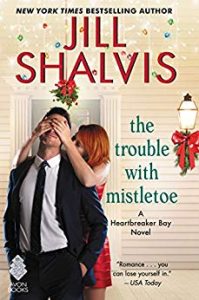 If she has her way . . .
Willa Davis is wrangling puppies when Keane Winters stalks into her pet shop with frustration in his chocolate-brown eyes and a pink bedazzled cat carrier in his hand. He needs a kitty sitter, stat. But the last thing Willa needs is to rescue a guy who doesn't even remember her . . .
He'll get nothing but coal in his stocking.
Saddled with his great-aunt's Feline from Hell, Keane is desperate to leave her in someone else's capable hands. But in spite of the fact that he's sure he's never seen the drop-dead-gorgeous pet shop owner before, she seems to be mad at him . . .
Unless he tempers "naughty" with a special kind of nice . . .
Willa can't deny that Keane's changed since high school: he's less arrogant, for one thing—but can she trust him not to break her heart again? It's time to throw a coin in the fountain, make a Christmas wish—and let the mistletoe do its work . . .
---